Lake De-silting and Bank Stabilisation - Brentwood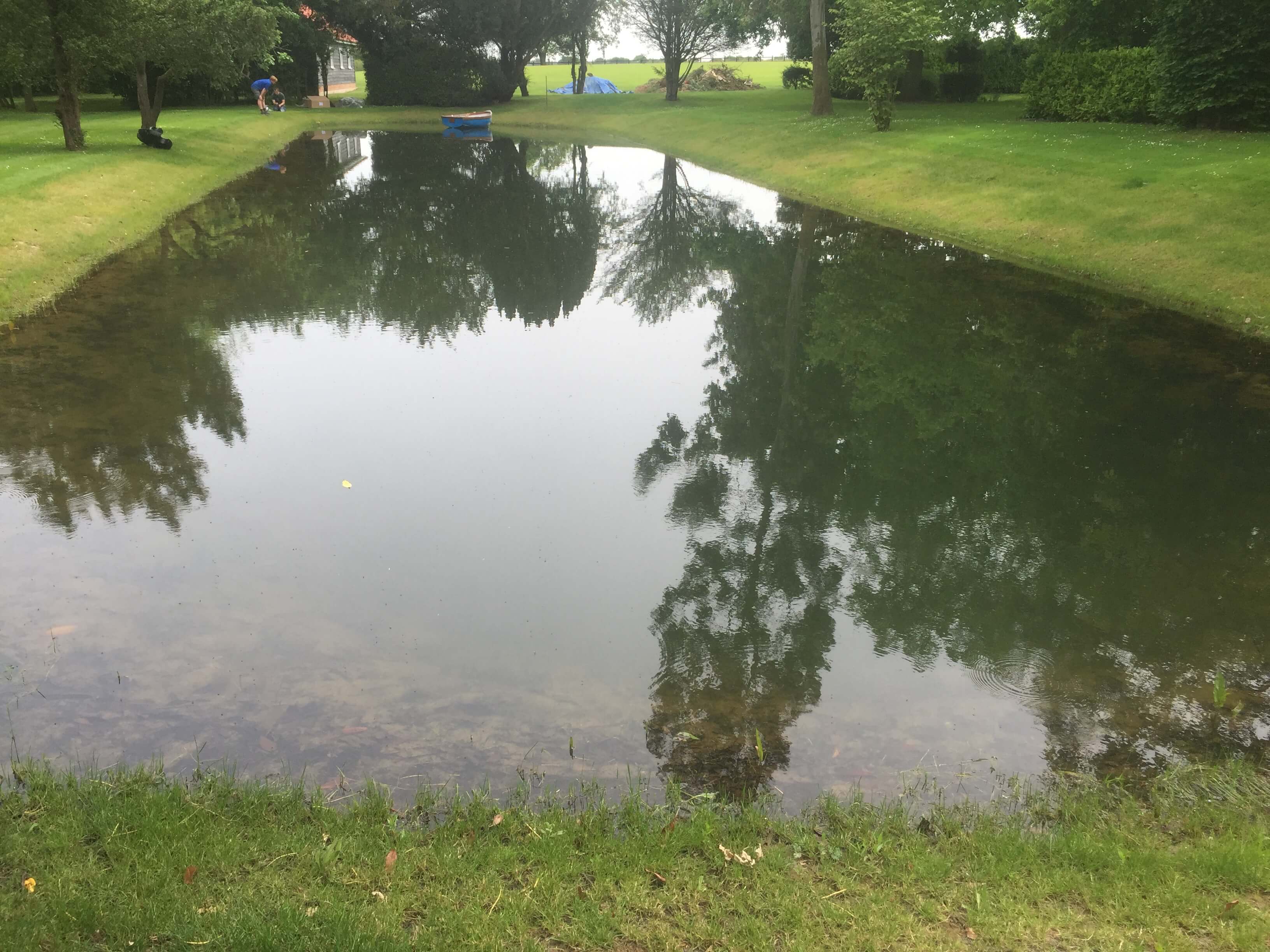 Lake De-silting and Bank Stabilisation
This natural lake was in need of de-silting as had been dug out many years before the existing owners moved in.
There was lots of wild carp swimming in around a foot of water and if left much longer would certainly perish.
The banks of the lake were eroding badly on one bank and were slowly disappearing into the pond.
The Brief
The client had asked if we were able to bring the lake back to life and to remove the silt and to stabilise the banks again. As the lake was sited in the middle of a lawn area at the front of the property it was the main focus point as you entered the driveway. We were asked as if it was possible to create a grass to water effect to keep the lake as natural as possible and to look a part of the lawn. We were also asked if there were any methods to help stabilise the banks and stop the erosion happening again.
The Solution
It was first necessary to have the fish removed, and although the lake was very shallow, the majority of the fish were netted out with a drag net. Any fish that remained were trapped in small pools as the water drained were caught by hand net.
The next step was to bring in the large excavator and dumper trucks. The client was also very keen to protect his lawn around the lake so access was only possible from one end, this meant that removing the silt from working on the banks was out of the question and we would have to take the excavator in the lake. Due to the steep banks and only having the access at one end of the lake we brought in lorry loads of hardcore which enabled a solid ramp to be built into the lake. We then started to remove the silt. The silt was spread on a nearby farmers field which had been harvested and would be ploughed in afterwards. This was very useful as we removed excess of 1000 ton.
Once the lake had been desilted the banks were graded, some puddling clay was brought in by lorry and used to firm up the banks. It was then dressed with topsoil, grass seeded and finally a semi permanent turf re-enforcment matting secured over the top. The TRM matting allows the grass to grow through which will hold the banks together and is made up of coconut fibre and a polypropylene mesh.
The pond was then left to fill naturally as was fed via rainwater pipes and for the grass to establish.