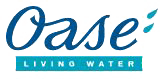 OASE has formed some partnerships between itself and regional pond and water feature builders.
The idea behind this is to bring the customer who wants the best in touch with the best installers of our products who; as part of the scheme undertake an annual training session.
What's in your garden that's more beautiful than bubbling water interacting with light. This atmospheric effect not only draws everyone's attention, it invites you to relax and unwind.
OASE, is passionate about water. Together with the creative design ideas brought to you by our authorised installer partners, you can now transform garden into your own personal outdoor rooms. Dive into the new world of design with water and light - the sky is the limit.:
OASE authorised installers are specialists in gardening, landscaping, who have attended a training course on how to install and maintain OASE products
OASE authorised installers are experienced in helping you create your very own water garden – designed for lasting enjoyment
OASE authorised installers can help you with your project - from the initial planning stages to implementation.
OASE authorised installers are often available in your area.
For further information please visit the OASE website.
Take a look at the projects we've been working on for our many happy clients.